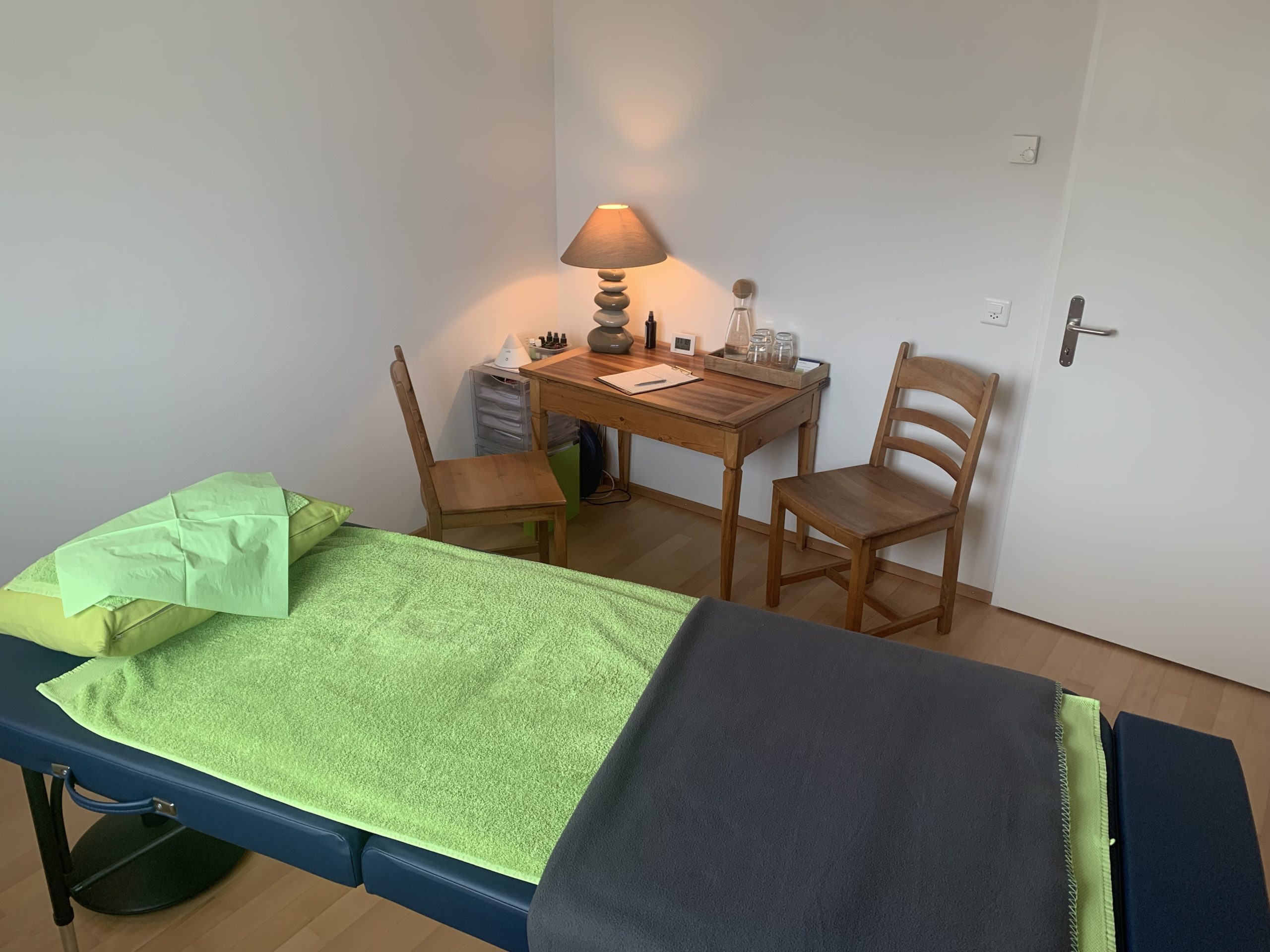 Practice in Baden (on Wednesday)
The therapy 
Craniosacral therapy (also called craniosacral osteopathy or craniotherapy) is a gentle manual body therapy that has found a wide range of practitioners and applications in Switzerland.
Craniosacral therapy was developed by the American Dr. William Garner Sutherland (1873-1954) on the basis of osteopathy. "CranioSacral" comes from the words cranium (skull) and sacrum (sacral bone). The two poles cranium and sacrum form a unit with the membranes of the brain and spinal cord in which the cerebrospinal fluid pulsates rhythmically. These pulsations are the source of waves that nourish and stimulate the vital functions and spread the healing forces to the whole body.
These subtle craniosacral movements can be felt throughout the body. The craniosacral therapist works with these rhythms and can, through specific techniques, mobilize the body, harmonize the energies and strengthen the body's resources. Blockages are released and the vegetative and endocrine nervous systems see their functions improved.  The treatment focuses on the anatomical structures and goes further by harmonizing the energetic fluids. The therapy, holistic and non-manipulative, acts on the body but also on the emotional and psychological level. It can also be a good complement to other methods or, for example, accompany medical treatment.
How a session unfolds
The first session always begins with a detailed history taking so that the therapist can get a picture of the client's background, current state and resources. It is important that the client's ailments and expectations are discussed and goals are set. A session usually lasts 1 hour during which the client lies comfortably (sometimes sitting if needed) while still dressed. A verbal exchange may take place during the session.
Fiels of application
Craniosacral therapy is particularly recommended…
– for general health problems and discomfort
– for back pain, muscle tension and restrictions of the locomotor system
– for headaches, migraines or tinnitus
– for jaw problems, sinusitis
– before or after a surgical operation
– after an accident, a fall, whiplash or a fracture
– to support states of fatigue, stress or burn-out or depression
– as support in difficult periods of life or change
– as support during pregnancy and postnatal support
Craniosacral therapy is recognized as a complementary method. The hourly rate is CHF 130.
As a complementary therapist with a federal diploma for the craniosacral therapy method, I am recognized by most health insurance companies. If you have taken out supplementary insurance, this will cover the costs.
Please ask your insurance company before starting a treatment. 
Frank Boillat
Thérapeute Complémentaire avec diplôme fédéral , méthode Thérapie Craniosacrale
Leehaldenweg 30c  –  8153 Rümlang
— Bäderstrasse 21 – 5400 Baden  le mercredi
Tél. 079 626 06 82
Copyright © Frank Boillat – Dezember 2020  /  Protection des données